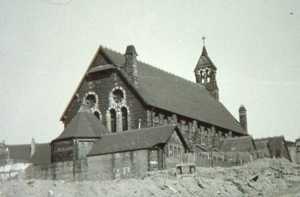 Nottingham
Emmanuel
Nottingham Archdeaconry
Nottingham South Deanery
Introduction
Nottingham Emmanuel, Woodborough Road, is one of the lost Victorian churches of Nottingham.
With a seating capacity of around 750 when finally completed, the building represented a typical large late-Victorian urban church.
Consecrated in 1885, it was constructed in a gothic revival style by the prolific Nottingham-based architect Fothergill Watson (who changed his name to Watson Fothergill in 1892), replacing a temporary iron church opened five years earlier. Extensions to the building followed in 1893 and 1901, when sufficient funds were available. The style was cruciform and it stood north to south by the line of the road. Eventually it had nave, chancel, aisles, transept, north turret (two bells), baptistery and vestries.
It was located in the newly urbanizing, working poor district of St Ann's, with the parish created in its own right in 1886. It served a tightly packed small ribbon of the city stretching for around half a mile along the east side of the Woodborough Road.
The vicar in the 1890's was Rev Llewellyn Gwynne, who became Bishop of Sudan and Deputy Chaplain General of the British Army in the First World War.
By the 1930s the church and congregation was passed its late Victorian and Edwardian peak and a slow decay set in. Declining church attendance, neglect and changing social conditions ensured the church shared the same fate as most of the surrounding area.
Pevsner said, 'The interior was of a very ambitious and busy design with lots of patterned brick and a curious tripartite chancel arch'.
Consigned to the pages of history by the slum clearance of this part of Nottingham, following an inquiry in July 1969 the church was said to be deteriorating badly and of 'no great architectural merit'. It was demolished on Whit Monday 1972.
Particular thanks to Martin Charles for research on this entry.