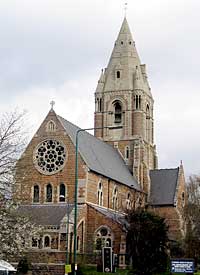 Nottingham
St Andrew
Nottingham Archdeaconry
Nottingham South Deanery
Introduction
St Andrew's Church is situated on Mansfield Road, opposite the Church (Rock) Cemetery, on or near the site of the Nottingham gallows. It was built by William Knight in 1869-71, with a west baptistery added by S R Stevenson in 1884 and vestries by Heazell & Sons in 1905.
Built of rock-faced Bulwell stone, it comprises a nave of four bays and aisles, a chancel under the tower, a sanctuary, transept chapels, baptistry, north and south porches and a tower with tourelles and with a broach spire, containing one bell by Mears & Stainbank dated 1871.
Heazell & Sons made additions including sedilia (1918), organ case (1933 for a Snetzler organ) and choir stalls (1934). A rood screen (1918) partly survives in the north aisle, and the north chapel (1931, with screen) includes a 1921 war memorial.
There is a tall clerestory with lancet windows and roundels.
Late 19th century and early 20th century stained glass includes four windows by Gibbs & Howard dated 1882. Of the baptistery windows one, of David by Andrew Stoddart and dating from 1932, is probably the best. In the aisles to the west is a good pair of double windows with roundels by H O & Charles Powell, 1902. There is also a west window by Heaton, Butler & Bayne from 1871.
The tower is a prominent Nottingham landmark, although Pevsner said the spire was 'blunt' and Elain Harwood chose 'bulbous'.
Particular thanks to Abbey Rees-Hales for research on this entry and to Geoff Buxton for the photographs.