Nottingham St Andrew
War Memorial
The chancel screen
in its original location
in 1985
The chancel
screen in 2016
An oak chancel screen and associated marble tablet were erected in 1918 by Joshua and Sophie Mellers in memory of their son, George Henry Reginald (Rex) Mellers, a captain in the Seventh Robin Hood Battalion of the Sherwood Foresters who had died during the Battle of the Hohenzollern Redoubt in October, 1915. The screen has since been removed, altered, and re-erected in the arch between the north aisle chapel and the choir.
On 21 June 1921 a second memorial screen was dedicated at St. Andrew's, commemorating the life of Arthur Liberty Millar, a captain of the Rifle Brigade, who was killed in action on 15 April 1918. A marble memorial to Millar is at the western end of the north aisle wall.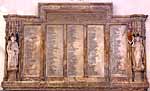 A memorial to the men of the parish of St. Andrew, who had died during the First World War, was dedicated by the Venerable Archdeacon of Nottingham, the Reverend W.J. Conybeare, on 24 July 1921. The alabaster memorial, which measures nearly ten feet wide, consists of five panels below a carved cornice. The memorial includes the names of the 186 men from both the Church congregation and the parish of St. Andrew who had died during the war, including the names of Mellers and Millar. The upper panel is inscribed with the following inscription:
IN GRATEFUL MEMORY OF THE MEN OF THIS PARISH AND
CONGREGATION WHO GAVE THEIR LIVES FOR KING AND COUNTRY
IN THE GREAT WAR, A.D. 1914-1918.
THEIR NAME LIVETH FOR EVERMORE
The memorial is also inscribed with the biblical quote, 'They were a wall unto us by night and day' (Samuel 25:16). Canopied niches containing alabaster statuettes of St. Andrew and St. George are located at each end.
A list of the men commemorated on the memorial is available on the Nottinghamshire Roll of Honour website.