Nottingham
St Andrew
Monuments and Memorials
Chancel
A commemorative raised bronze tablet, affixed to the chancel wall, near the choir vestry door, commemorates the life of Herbert Stephen Irons, the organist of St. Andrew's, who died in June, 1905. The tablet is made from oak with raised metal letters and surrounded by a bronze border which contains Maltese Crosses. The tablet is inscribed: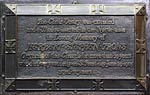 The Choir Vestry was extended
and a Window inserted in the North aisle
in Loving Memory of
HERBERT STEPHEN IRONS
Organist of this Church for more than 29 years
who died very suddenly on St. Peter's day June 29 1905
aged 71 years.
Other memorial tablets in the chancel:

IN MEMORY OF
ERNEST JOSHUA PERKINS
1879 – 1939
SOMETIME CHURCHWARDEN OF THIS CHURCH
A FAITHFUL AND WISE SERVANT

TO THE GLORY OF GOD
AND IN LOVING MEMORY OF
JAMES MATHESON BEDELLS
WHO DIED ON THE 20TH JANUARY 1931
AGE 79 YEARS
FOR NEARLY 50 YEARS A REGULAR
AND LOYAL MEMBER OF THE CHOIR.
"ENTER INTO HIS GATES WITH THANKSGIVING
AND INTO HIS COURTAS WITH PRAISE"
North Aisle
At the west end of the north aisle is a marble monument to Captain Arthur Liberty Millar who was killed in 1918.
TO THE GLORY OF GOD AND IN LOVING MEMORY OF
ARTHUR LIBERTY MILLAR, M.A.
CAPTAIN THE RIFLE BRIGADE
KILLED IN ACTION AT PROSENICK SALONIKA, APRIL 15, 1918, AGED 30.
ONLY CHILD OF
JAMES MILLAR O.B.E., M.D. AND KATE, HIS WIFE,
BY WHOM THIS SCREEN IS ERECTED.
The north aisle chapel contains a marble memorial to Captain G.H.R. Mellers who was killed in the First World War. The inscription reads:

TO THE GLORY OF GOD
AND
IN MEMORY OF
GEORGE HENRY REGINALD MELLERS
B.A. OXON.
A CAPTAIN IN THE 7TH (ROBIN HOOD) BATTALION
SHERWOOD FORESTERS
(NOTTINGHAMSHIRE AND DERBYSHIRE REGIMENT)
THE ONLY CHILD OF HIS PARENTS
WHO FELL IN FLANDERS
WHILST GALLANTRY LEADING HIS MEN
IN THE ASSAULT ON THE HOHENZOLLERN REDOUBT
ON THE 13TH DAY OF OCTOBER 1915
AGED 29 YEARS
THE ROOD SCREEN WHICH ADORNS THIS CHURCH
WAS ERECTED BY HIS SORROWING PARENTS
A.D. 1918.