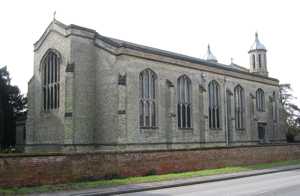 Retford
St Saviour
Newark Archdeaconry
Bassetlaw and Bawtry Deanery
Introduction
St Saviour's is a nineteenth century church, built in the 1820s to serve an area of Clarborough parish which was approximately two and a half miles from the parish church. The area was built over in the early nineteenth century, and local people tended to go to St Swithun, East Retford, which was closer to where they lived than Clarborough.
When the Rev Joshua Brooks became vicar of Clarborough in 1827 he set about raising funds to build a chapel of ease at the top of Moorgate Hill, Retford, which was consecrated in 1829 and dedicated to the Saviour.
A separate parish was created in 1933.
Particular thanks to Robert Walker for research on this entry,
to Mr J Ford for assisting with the preparation,
and to Mr D Titmuss for photographs