South Muskham St Wilfrid
Glass
South Aisle
Western window
of the south wall
Arms of William Smith,
Bishop of Lincoln
Flower design
South Wall, Western Window
The western window in the south wall contains the arms of William Smith (Smyth), Bishop of Lincoln 1496-1513; it is 'a sable, a chevron between three roses argent' and this, moved to the south aisle from the east window of the chancel, is the only ancient glass to survive.
There are also four diamond-panes with a conventional flower-design in yellow.
West Window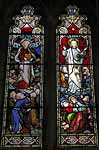 West window
In the west window, behind the font, is depicted Moses and the Old Law and, on the right hand side, Our Lord and the New Law.
Although there is no inscription Kelly's directory of Nottinghamshire for 1891 records that 'the west window commemorates the Rev. J.D. Becher M.A. for 29 years vicar of this parish.'
East Window
In the east window there are three lights depicting scenes from the Parable of the Good Samaritan.
The inscription underneath reads:

IN MEMORY OF THE YOUNGEST DAUGHTER
OF THE LATE HENRY HUGGINS SEN

R

. OF THIS PLACE.
SHE DIED AT SCARBOROUGH NOVEMBER 14

TH

1855, AGED 77
SACRED TO THE MEMORY OF JOHN BRADLEY OF BLYTH IN THIS
COUNTY, WHO DIED JAN

Y

.14

TH

. 1853, AET. 70. THIS MEMORIAL
HAS BEEN PLACED HERE BY HIS AFFECTIONATE WIFE
SARAH BRADLEY,
DIED OCTOBER 4

TH

.1859,
AGED 83 YEARS
Chancel
East Window
East window
Detail of the
east window
The east window now consists of five lights; the centre panel was installed in 1971/2 following a break-in at the church when one of the panels was smashed. As it was not possible to match the glass, the new panel was inserted in the centre with a depiction of the Southwell Diocesan Coat of Arms and the emblem of St. Wilfrid. The remainder of the window, and those on the north east and south east of the chancel, is glazed in green-tinted Cathedral glass in diamond panes.
Other Windows
The rest of the glazing is in plain glass in diamond panes.