Stapleford St Helen
War Memorial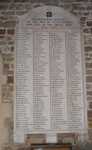 The War Memorial for the First World War is in the Memorial Chapel. It carries 188 names. Also in the Chapel is a Book of Remembrance for those who died in the Second World War. The names in it have been transcribed by Robert Butler and a copy is in Stapleford Library.
The north aisle windows are dedicated to those who fell in the Second World War in all three of the services.
In addition, the east window in the south chapel is dedicated as a memorial to CSM William George Domleo (d1918).