Thurgarton
St Peter
Glass
There are four stained glass windows all dating from 1870 to 1880.
Click the numbers in the key plan for details of the items.
1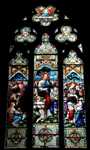 A window in the north aisle depicts the Miracle of the Loaves and Fishes. It bears a dedication in Latin:
Ad Dei gloriam et in memoriam
Ricardi Milward hanc posuit
fenestram Maria vidua ejus
which translates as:
To the Glory of God and in memory of Richard Milward this window was placed by Mary his widow
An angel in the tracery carries the words (in the form found at John 6.48):
Beneath this window is a slate plaque which bears the inscription:
Richard Milward
Restored the nave and aisles of this church in 1854 and put in the East Window in 1875. He died in 1879
The Memory of the Just is Blessed.
2

This fills most the east end of the chancel above the altar. The stained glass depicts four scenes from the Life of St Peter; starting from the left - his calling by Jesus, walking on the Sea of Galilee, his bidding by Jesus to 'feed my sheep', his release from prison by an angel.
Angels in the tracery bear scrolls reading (from John 6.68):
LORD TO WHOM SHALL WE GO
THOU HAST THE WORDS OF ETERNAL LIFE
This glass was put in by Richard Milward in 1875. The window frame is original 13th century work and retains metal rings for shutters. Its location in the original Priory church is not known. In the small post-dissolution parish church it probably occupied the east end of the nave and was placed in its present position during the 1853 building of the chancel. An additional feature of this window is the central medieval niche.
3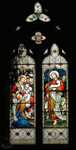 Immediately to the right of the altar in the south wall of the chancel is a window depicting Christ receiving the Children on the left and The Good Shepherd on the right. It bears in Latin an inscription:
AD DEI GLORIAM NECNON IN MEMORIAM HENRICI ANDERS SACERDOTIS QUI IN
XTO OBDORMIVIT AD XVI KAL MAII ANNO SALUTIS MDCCCLXXVII UXOR EJUS
ANNA SOROR RICARDI MILWARD HANC VITREIS ORNAVIT SIGNIS FENESTRAM
translating to:
To the Glory of God and in memory of Henry Anders, priest, who fell asleep 16th April 1877, this stained glass window was erected by his wife Ann, sister of Richard Milward.
4

This sits high up above the west doors. It depicts Jesus the Saviour of Mankind flanked on the left by St James the Greater and on the left by St John the Evangelist. It dates from the Victorian restoration but has no exact date.
The inscriptions read: