Thurgarton St Peter
War Memorial
Village War Memorial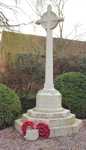 Located in the centre of the village within the old pinfold is a 10ft high memorial cross of white Portland Stone set on three stepped octagonal bases bearing names from both World Wars. The memorial was donated by Mrs Upton of Thurgarton Priory in 1919 and bears two of her grandsons' names along with men from the village. The memorial was restored and rededicated in 2010.
On the upper part of the base is inscribed:
TO THE GLORY OF GOD
AND IN GRATEFUL MEMORY OF
THOSE WHO GAVE THEIR LIVES FOR
THEIR COUNTRY AUG. 1914 - NOV. 1918
Below that are the names on new panels.
Names on the War Memorial
First World War
Charles Baylay
William Bentley
Harry Fisher
Arthur Marson
George Smith
Richard Thornton
Thomas Upton
Guy Usborne
Vincent Warriner
William Tyler
The name of Thomas Paling was added in 2010
Second World War
Geoffrey Fletcher
Jack Allwood
Further information on the men killed in the First World War is available on the Nottinghamshire Roll of Honour website.
Rolls of Honour
The church has an illuminated Roll of Honour which lists the parishioners who served in the First World War. The names of those men who were killed in action, died of wounds, or were posted 'missing' are annotated accordingly. There is also a pre-printed Roll of Honour with the names of all who served in the war added in manuscript. The names of those who died are annotated 'RIP'.