Upton
St Peter and St Paul
Glass
The windows of the church were much renewed during the 19th century restorations, which removed all of the stained glass from the church; however, thanks to 20th century donations the church now has three stained glass windows.
Nave
In the south wall is a Perpendicular lancet window of four lights, which is original (probably 14th century), and restored. It has round heads, panel tracery, splayed mullions and coved reveal. To either side of this window are 19th century decorated style double lancet windows with ogee heads, splayed mullions, chamfered reveals and hood moulds.
Chancel
The chancel windows chiefly date from the 14th century.
The east window is a large 3-paned window, enlarged following the restoration (after the roof was raised) to let in more light. A stained glass window was installed in 1964. It shows the Madonna and Child in its central panel, with wise men looking on. It bears an inscription as follows: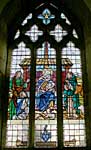 GLORY TO GOD IN THE HIGHEST
Given by Violet Marjorie Woodward in loving memory of her Father
John Francis Warwick 1854-1935.
Her mother Gertrude Warwick 1862-1932 and her sister
Phyllis Dulce Warwick 1887-1961.'
In the south wall are two 19th century decorated double lancets with ogee heads, splayed mullions and reveals and hood moulds.
In the western end of the north wall is a restored 14th century Decorated-style double lancet with splayed mullion and splayed square headed reveal with hood mould.

There is in addition a small window to the south side at the west end of the chancel by the pulpit.
This window was intended to give light, as light from the nave would have been cut off by the rood screen.
North Aisle
The chapel features a three-light stained glass window at the east end. The central pane shows Jesus as the Good Shepherd, flanked by St Mary and St Peter. This window was donated by the Brodhurst family in 1932 and bears the following dedication: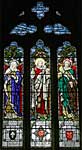 In loving memory of Lucas Brodhurst who died June 9th 1925
and his wife Harriet Matilda who died August 29th 1924.
This window is erected by their Daughters.
The north window is a 2-light plain glass window with intersecting tracery.

Detail of west
window in
north aisle
At the west end of the north aisle is a smaller stained glass window, now partially obscured by the toilet and tea room.
Tower
The first stage of the tower has a 15th century triple lancet window in the west wall, with panel tracery and moulded reveal with hood mould, designed to light the bell chamber. It also has two small windows to light the staircase.
The second stage also has two stair lights in the south wall and a larger opening with a grill – this is the opening for the priest's room/dovecote.
The third stage has a 15th century triple lancet window in all four walls, each with panel tracery, louvres, and hood moulds.