Woodborough
St Swithun
Monuments and Memorials
East end
The statues each side of the east window are replacement painted figures, the originals having long since been lost. A plaque shows
Figures erected by his wife and family
in memory of the late Reverend Charles Rowan Robinson MB RN
Vicar of this Parish 1933-47
West end of chancel
On the back of the Vicar's chair at the end of the choir stalls a brass plate records:
To the glory of God and in loving memory of Emma Louise Parkyns
his dear wife who died Sept.2nd 1877 aged 41.
These choir stalls, the last work of his life, were designed, carved and given
on Christmas Eve 1893
by Mansfield Parkyns of Woodborough Hall
who died Jan.12th 1894 aged 70.
On the south wall of the chancel
Tablets inscribed:
In memory of Philip, Ann, Dorothy & Charles Bainbrigge,
sons and daughters of William Bainbrigge Esq,
by Mary his wife, & daughter of Philip Lacock.
All died very young.
Mary Cartwright
daughter of Fulke Cartwright of Ossington Esq.
in the county of Nottingham
wife to Philip Lacock of the Inner Temple, London
& since of Woodborough in the county died 24 June 1693
In loving memory of Frederick Goode Slight BA
vicar of Woodborough 1875-1891
aged 53 died January 17th 1891.
Buried at Bournemouth.
Also Isabella Jane Slight his wife
aged 49 died February 20th 1890.
Buried at Woodborough.
In peace.
To the glory of God
& in memory of the Rev. Samuel Bond MA
who died April 11th 1912 aged 64.
For 16 years vicar of this parish
& of Emily Kate his wife
who died September 17th 1912.
This tablet was placed here by the parishioners
as a token of respect to their memory
Grant them O Lord, eternal rest
& let everlasting light shine upon them.
To the glory of God
& in memory of John Birch Jones BD
vicar of Woodborough 1912-18
died September 25th 1918 aged 68.
This tablet was erected by the parishioners in token of their deep respect.
On the north wall of the chancel:
On the north side of the chancel here
lies the body of John Wood Esq.
& Catherine his wife
and several of their children.
John, the eldest, is buried at Lowdham.
Here lies also the body of Montagu son of John
& Bridget his wife
as also the body of John Wood, son of Montagu.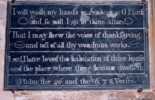 There is also a stone homilectic tablet put up in 1770 by William Edge, Churchwarden.
Grave slabs in the floor of the chancel:
Philip Lacock departed this life August 1707 aged 21
Robert Lacock departed this life December 25th 1708 aged 24
Charles Lacock departed this life July 19th 1707 aged 22
Carolus Lacock armiger obit 7 die Februarius anno dni 1683
Grave slabs in the nave floor below the chancel step:
Here lieth the body of William Bainbrigge,
3rd son of William Bainbrigge Esq.
by Mary his wife,
daughter & co-heir of Woodborough
in the county of Nottingham.
He died 3 July 1737 aged 15
Hic jacet Philipus Lacock de Woodburgh
et interiore templo Londiniensis
armiger qui mutatis non mortuis
ano aetat LXVII April IX MDCLXVIII
In the nave
Near the pulpit is a cross slab to
William Ailvyie, yeoman died 1591
In the northwest corner of the nave is a coffin topped grave stone of 12th or 13th century style which may record John Perot of Wodeburg who died in July 1491 and who in his will asked "to be buried in the N. side of ye Ch. of Wodeburg"
A stone floor slab in the nave near the lectern has no inscription but bears a design of a column and capital.
Kneeling desks are inscribed "In memory of Richard Ward", "In memory of H.N.Chapman 1905-1969", "In memory of R.B.Hall 1903-1970".
The flower stand has the inscription "In loving memory of Peg and Bert Welch who lived in Woodborough 1967-1999"
The table at the north end of the north aisle of the nave bears a small brass plate inscribed
On May 26th 1966
two Provost jet aeroplanes
collided in mid-air and
crashed within the confines
of the village
Thanks be to God
n o-one was hurt
In the porch:
Extension dedicated by Rt.Rev. George Cassidy,
Bishop of Southwell 10th September 2000
Doors erected in memory of
Alderman Sir Frank and Lady Small 1975
Lady Chapel
The Lady chapel in the south nave aisle has three embroidered panels, designed by Mrs M.Voisey in 1994, worked by a group of local ladies and dedicated in June 1995. The panels depict:
The Creation and four elements, earth, water, fire and air
Christ's baptism
The twelve apostles
Below these is the Book of Remembrance.
South Wall
On the south wall is the Woodborough Millennium Map Tapestry. This was designed and created in AD2000 by the Woodborough Craft Group and is a cross stitch, embroidery and collage map of the village surrounded by pictures of significant local buildings and an illustration of the Woodborough Feast celebrations, borders depicting local flora and fauna, wildlife and crops, symbols of local youth groups and Udeburgh (1066) - Woodborough (2000).