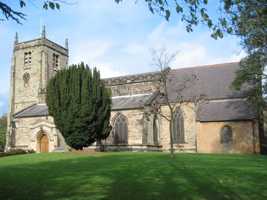 Arnold
St Mary
Nottingham Archdeaconry
Gedling Deanery
Introduction
St Mary's, Arnold, is a 14th century church, restored in 1868-9 by George Gilbert Scott.
The village of Arnold was recorded in Domesday as Ernehale. Possibly the name was derived from the eagles which may have nested in Sherwood Forest, because the name may mean 'eagle slope or haven'.
The church is dedicated to the Nativity of the Virgin Mary, the Feast date of which is 8th September. For many years, however, Arnold people have celebrated it on the Sunday following the 19th September, ignoring the recalculation of the calendar which was decreed in 1752.
Partly because of its proximity to Nottingham, in the nineteenth century Arnold grew from a rural village into thriving small textile town, and today it is recognisably a suburb of the city (although not within its boundaries) with a population of 35,900 in 2000.
Particular thanks to Sue Andrews and Alan Langton for research on this entry
and to Judith Asquith for photographs