Arnold St Mary
Monuments and Memorials
Chancel
John de la Launde
To the left of the Easter Sepulchre is the tomb of John de la Launde, appointed to the living of Arnold in 1315. It is in an arched recess. It is now empty, and over it is a slab of yellow Mansfield stone which is inscribed:
Perpetuis Annis Latitant hic Ossa Johannis
(The inscription translates as: Here for perpetual years lie hidden the bones of John).
John Parsons
The Revd John Parsons was the vicar of Arnold from 1744-60 and died in 1769. The inscription on the tablet reads:
The soul which inhabited the body of John Parsons now laid at thy feet is at this time partaking of the due reward of its deeds. Its state is now unalterable. If good, it is happy without fear of change. If not, how great a mercy would he esteem it to be but for a short time, as thou art, capable of avoiding the torments of Hell and of being made partaker of the joys of Heaven to all eternity.
Mary Ann Whitaker
A memorial reads:
SACRED
TO THE MEMORY OF
MARY ANN,
THE BELOVED WIFE OF
JOSEPH WHITAKER,
OF RAMSDALE HOUSE,
WHO DEPARTED THIS LIFE
THE 15

TH

. DAY OF OCTOBER, 1846,
AGED 57 YEARS.
Geoffrey Francis Holcombe
The Revd Geoffrey Francis Holcombe was for sixty years rector of Arnold. He died in 1872. The inscription reads:
SACRED TO THE MEMORY OF THE
REVD GEO: FRANCIS HOLCOMBE,
61 YEARS RECTOR OF THIS PARISH,
WHO DEPARTED THIS LIFE
AUGUST 24TH 1872
AGED 84 YEARS.
My soul waiteth for the Lord.
Psalm 130.6.
Frank Evelyn Seely
A plate beneath one of the windows reads:
THIS TABLET
COMMEMORATES THE LIFE
OF THE LATE
FRANK EVELYN SEELY

LIEUTENANT - COLONEL
LAY RECTOR OF ARNOLD
FROM 1915 TO 1928 THROUGH
WHOSE PIOUS BOUNTY
THE SCREEN STALLS REREDOS
AND MARBLE PAVEMENT WERE
PLACED IN THIS CHURCH
IN THE YEAR 1924
TO THE GLORY OF GOD
Gravestones
Four of the older gravestones have been moved inside for protection and now stand in the south aisle. They are now fixed to the wall behind the font.
1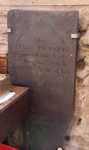 Mary Fenner

Made of slate:

Mrs
MARY FENNER
departed this Life
29

th

Decem

r

1760
in the 60

th

Year of her
Age