Colwick St John the Baptist
Features and Fittings

Remnant of the
reredos from the
old church
It is believed that the altar, choir stalls and a three-tiered pulpit that were originally in the church, had been relocated from the old church. The altar had been modernised and a reredos had been made to match the altar and had been given by churchwardens R Triffitt and R Stevenson.
All these items were found to have woodworm at some time and were destroyed. The only item remaining from this set of fittings is a small wooden section of the reredos now in the form of a plaque on the south wall.
Altar and altar rails
The altar and altar rails

The top of the altar
with engraved crosses
(with thanks to
Jonathan Hemingray)
Wooden frame incorporating original stone altar slab with five Maltese crosses from the old church.
Made by Jonathan Hemingway.
The altar rails came from St Mark's Nottingham and are of wrought iron topped by an oak rail.
Lecterns
| | |
| --- | --- |
| Eagle lectern | Wooden lectern |
Brass eagle lectern given by his children in memory of Sir Ernest Jardine, Bart, JP, d26 April 1947.
Also a plain wooden lectern given in memory of Clara Cutts 1902-1997.
Bishop's chair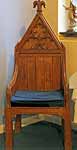 Originally in Christ Church, Radford.
Credence table

Oak, given by Miss Alice Webb in memory of her sister.
A small plaque on the table reads:
IN LOVING MEMORY OF ELIZABETH WILKINS
ST JOHN'S CHURCH, COLWICK,
16TH JANUARY 1950, AGE 80 YEARS.
GIVEN BY HER SISTER ALICE.
Wooden cross
Johnson memorial cross. This once stood on the altar; it is now on the west wall.
Figure of Christ

Painted metal figure above the altar.
Painted statue of Virgin and Child
This was introduced to the church in 1961. A plaque on the wooden stand reads:
GIVEN IN MEMORY OF
ERNEST HANDLEY
CLARA JANE HANDLEY
CYRIL RUPERT HANDLEY
REQUIESCANT IN PACE
Stone font
| | |
| --- | --- |
| Font | Font bowl |
This came from St Mark's Church, Nottingham.
It had originally been located on the south side of the entrance door, but was removed to the north side when the extension was built in 1977.
Altar frontal chest

Wooden. A plaque records:
In Loving memory of ELIZABETH LOUIE SMITH
and her son SIDNEY HUGH WYNN SMITH both of
Colwick House, Old Colwick, Nottingham, died 1964.
Also of HERBERT WILLIAM SMITH husband of the
above ELIZABETH LOUIE, died 1939.
The donation was made by the children of William and Elizabeth Smith – Miss Mary Smith and Mrs Keith Ford.
Bible rest

Wooden bible rest with an inscription that reads:
IN MEMORY OF WILLIAM HENRY STEVENSON
DIED 16 OCTOBER 1947
THE GIFT OF HIS FAMILY AND FRIENDS
Foundation stone

The Foundation Stone is now mounted on the west wall. It reads:
+
ST. JOHN THE BAPTIST
CHURCH, COLWICK VALE.
THIS FOUNDATION STONE
WAS LAID ON SUNDAY
FEBRUARY 26TH 1950 BY
THE RT.REVD.F.R.BARRY D.S.O. D.D.
LORD BISHOP OF SOUTHWELL.
VALE CHURCHWARDENS
ARCHDEACON
R.J.TRIFFITT
J.H.L.PHILLIPS, M.A.
R.STEVENSON
RECTOR OF COLWICK
RURAL DEAN
W.T.P.WHEELER
T.A.LEE, M.A.
Church consecration plaque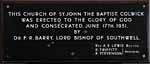 This is on the north wall. It reads:
THIS CHURCH OF ST.JOHN THE BAPTIST, COLWICK
WAS ERECTED TO THE GLORY OF GOD
AND CONSECRATED, JUNE 17TH. 1951
BY
DR.F.R.BARRY, LORD BISHOP OF SOUTHWELL.
R

EV

.A.E.LEWIS
R

ECTOR

R.TRIFFITT

WARDENS

R.STEVENSON
New roof dedication plaque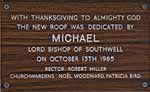 This is on the south wall, and reads:
WITH THANKSGIVING TO ALMIGHTY GOD
THE NEW ROOF WAS DEDICATED BY
MICHAEL
LORD BISHOP OF SOUTHWELL
ON OCTOBER 13TH 1985.
RECTOR: ROBERT MILLER
CHURCHWARDENS: NOËL WOODWARD, PATRICIA BIRD
Opening of the extension plaque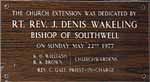 This is located in the vestibule. It reads:
THE CHURCH EXTENSION WAS DEDICATED BY
RT. REV. J. DENIS WAKELING
BISHOP OF SOUTHWELL
ON SUNDAY MAY 22ND 1977
K. D. WILLIAMS
CHURCHWARDENS
R. K. BROWN
REV C. GALE
PRIEST IN CHARGE