Epperstone Holy Cross
Bells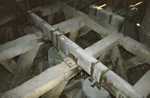 The bells in the belfry
showing their
arrangement
The tower contains 4 bells:
Inscription
Size
Weight
1

GOD SAVE HIS CHVRCH 1742

28½"
c 4 cwt
2

GOD SAVE HIS CHVRCH 1729

29"
c 4½ cwt
3
B flat

JHESUS BE OUR SPEDE 1590

32"
c 6 cwt

4

F

I : TAYLOR AND CO FOUNDERS LOUGHBOROUGH 1865

44⅝"
15.0.2
Throsby recorded in the 1790s that the church had three bells, as did the Cole manuscript of 1740. All three of these older bells are still to be found hung from headstocks in the old type V wooden bell frame.
The tenor was added in 1865 as a strike bell for the clock. It is hung dead from a beam passing from frame to window cill, and is pitched one fourth lower than the other three bells. All bells retain their canons.
The treble bears the decorations used by the Oldfields, but was cast by Thomas Hedderly, soon after he had taken over the Long Row foundry in Nottingham. The inscription is in small neat capital letters. The second is the work of William Noone. The third is a good bell by Henry II Oldfield using the B type capital letters.