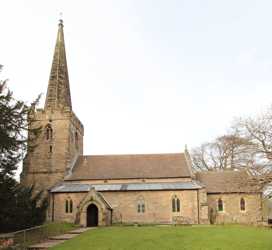 Epperstone
Holy Cross
Nottingham Archdeaconry
Gedling Deanery
Introduction
A church for Epperstone and Woodborough is mentioned in Domesday Book.
The present church stands on high ground in the centre of the village, at the side of Main Street, and is approached by a flight of stone steps. Facing it is the former Manor House where the Lords of the Manor lived. They held the advowson until 1818. The area is still known locally as 'the Rock' or 'the Rocks'.
Everything known of its history suggests that the first and subsequent church building was of a modest nature. It is known to have lacked, for example, the massive foundations which have been found beneath the neighbouring church at Woodborough; indeed, 'simple' and 'modest' are suitable descriptions of The Holy Cross at Epperstone.
Mainly built of local mudstone (the material of 'The Rock') the present church was probably begun after Epperstone became the property of a Norman Knight. It consists of a chancel, nave with clerestory on the south side, south aisle and porch, embattled west tower with spire, clock and three bells. Portions of the north wall may be Norman. The font has been considered as Norman, although it rests on a modern base.
Two of the finest features inside are the tower arch reaching to the roof and the graceful nave arcade with clustered columns and unusual capitals. The nave could be earlier, based on the dating of floriated cross slabs in the floor although these are probably not original to their current situation.
Particular thanks to David Bagley, Rosalys Coope, James Gunn and Christopher Brooke for research on this entry