Epperstone Holy Cross
War Memorial
First World War
Interior Memorial
On the north side of the tower wall there is a stone tablet with coloured mosaic surround. this reads:
1914-1918
THOSE OF THIS PLACE
WHO FELL IN
THE WORLD WAR
AMYAN LYDFORD CHAMPNEYS.
HERBERT DAYNES.
GEORGE HALLAM.
JOHN PEARSON JACKSON.
CHRISTOPHER LEY.
MAVRICE ADEN LEY.
WM HENRY BRETT WALES.
SAMVEL CHARLES WILLIES.
Exterior Memorial
Set into the south churchyard wall, right next to the street, is a stone tablet which reads:
1914 - 1918
THIS TABLET IS ERECTED IN
GRATEFUL REMEMBRANCE OF
THOSE OF THIS VILLAGE, WHO
SERVED THEIR KING AND COUNTRY,
IN THE GREAT WAR.
LEST WE FORGET
Second World War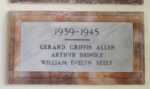 Beneath the interior First World War Memorial is a simple polished marble plaque which reads:
1939-1945
GERARD GRIFFIN ALLEN
ARTHVR BRINDLE
WILLIAM EVELYN SEELY
Individual Memorial
There is in the chancel a brass plaque in memory of Maurice Aden Ley (whose name is also included on the interior First World War Memorial).