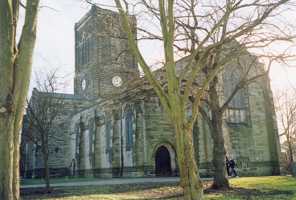 Sneinton
St Stephen
Nottingham Archdeaconry
Nottingham South Deanery
Introduction
St Stephen's Church Sneinton is the parish church of the parish of St Stephen with St Matthias, formerly St Stephen with St Alban.
The church is located on one of the oldest religious sites in the city of Nottingham. It is possible that a church existed here in Saxon times, serving the early inhabitants of Sneinton, then a village separate from Nottingham, but no evidence remains to support the claim. The records of Lenton Priory prove the ownership of land in Sneinton and acknowledges the Prior's responsibility to supply priests from his Cluniac order to service the church.
It would appear that the church site has changed little for at least three hundred years; the 1764 Enclosure map shows an identical plan of the churchyard. The present building is recorded as the fifth on the site, having its tower from the 1839 church built by Rickman and the chancel, transepts and nave rebuilt by Bodley and Hare in 1909/1912
The somewhat plain exterior of the building, with its almost black tower, does not give any indication of the richness of its interior which was mainly designed by Bodley and Hare. The oak choir stalls, with their carved miserichords, date back to at least the fifteenth century, with recent suggestions that they are much earlier. They were originally installed in St Mary's Church in the Lace Market until discarded in the restoration of 1848. A 14th century stone font with a highly decorated spire cover is at the west end of the church. At the high altar is a magnificent reredos designed by Bodley and carved at Oberammagau. The reredos was exhibited at the Royal Academy in London before its final installation.
In the north transept is the very colourful St George's Chapel. The Lady Chapel is housed in the south transept, as is the chapel of St Anthony of Padua. The barrel-vaulted roof of the nave is supported by four pairs of substantial stone piers. At the base of the piers many fine statues are set, again adding colour.
The 19th century vicars of St Stephen's were at the forefront of the Tractarian and High Church movements attracting many of the church leaders of the period to speak there. Some of the religious literature of the time was written by the incumbents of St Stephen's, and many of the curates who served there went on to become Canons throughout the country.
Particular thanks to Doug Fletcher for research on this entry