Teversal St Katherine
Bells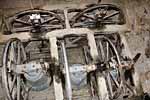 Five bells hung from an oak frame in the tower. The bellframe is of a mix of truss types, Pickford Groups 6.A, 6.D, and 6.B. It has been tree-ring dated and results suggest the frame was all built at one time, more than likely when the bells were augmented from four to five in AD 1758, and may be by the bellfounder Thomas I Hedderly himself, or perhaps John Wright, a bellframe builder, of Nottingham. The report on the dendrochronological analysis of samples taken from timbers of the bellframe is available for download.
Inscription
Size
Weight
1

Shoulder. [50] T

THE GIFT OF SIR CHARLES MOLYNEUX BAR [46] 1758
27.75"
c4.25 cwt
2

Shoulder. [50] T

(i). : THE GIFT OF SIR IOHN MOLYNEUX BAR O [46]
(ii). I WAS : NEW : CAST : AND : ADDED : TO : ME : IN [Molyneux Arms] 1758


29"
c4.75 cwt
3

(i). GLORIA IN EXCELSIS DEO 1617
(ii). P H


31.5"
c5.5 cwt
4

(i). EX DONO ROGER GRENAL ARMIGER ORTO SEPTE AO I SS i [1551] [35]

_ _ _ _ _

Soundbow: IHV BEDICTV SIT NOME DM

34.125"
c6.5 cwt
5

Shoulder. [50]

(i). [Molyneux Arms] Hec [46] Campana [46] Sacra [46] Fiat [46] Trinitate [46] Beata 1683

(ii). T W I C WARDENS

37"
c9 cwt
Notes
[50] is decoration.

The 'crowned' form of
the bell founder's mark
for Henry I Oldfield

Bells 1 and 2 were cast by Thomas I Hedderly; Bell 3 was cast by Paul Heathcote; Bell 4 by Henry I Oldfield and Bell 5 by William Noone.
The arms of Sir John Molyneux are on the second bell.
The initials 'R H' on the third bell are possibly for Ralph Hethcote.
The fourth bell was given by Roger Greenhalgh, gentleman, in 1551.
The initials 'T W' and 'I C' on the tenor bell (Bell 5) are for Timothy Wild and James Clarke, churchwardens.