Thurgarton St Peter
Castle Hill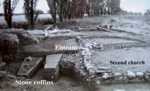 Castle Hill excavation
(photo dated 1953)
In the 1950s archaeologists excavated a rectangular enclosure on Castle Hill, Thurgarton and discovered two small timber-built churches, the first of which had been demolished to make way for the second.
The date of this church site corresponds to the Domesday entry for Thurgarton and Tythby which records a priest and a church. It is unclear whether the church was at Thurgarton or Tythby, but given the formatting of Domesday the former seems more plausible. It has been suggested that this early church may have held minster status which would in part explain the later location of a priory at Thurgarton.
Details of the Investigation
The remains of the first church was represented by a partially robbed out stone wall (the footing for timber walls) and a layer of plaster. Surrounding the church was a burial ground containing over 30 bodies of men, women and children whose ages ranged from newborn to about 40 years. The more intact bodies indicated typical features of Christian burial but most skeletons were incomplete having undergone considerable disturbance. The trauma to the bodies was caused by a flattening of the site with a 'scalping' of the hill and a 2-3ft layer of clay soil mixed with charcoal and considerable quantities of small weathered shards of Saxon-Norman pottery. The evidence points to a rapid levelling of the first church and its surrounding graves to form a flat platform base for the subsequent building of a second church.

Stone coffin
from Castle Hill,
now by north
wall of chancel
The second church measured 25ft by 18ft and was also of timber sitting on stone footings. A layer of fallen plaster survived which included pieces with painted decoration and wattle imprint. A door slab was found almost half way along the south wall outside which, within a few feet of the east end of the church, were two large coffins of Ancaster stone.
The coffin closest to the church had a plain lid and contained the skeleton of an elderly male. The second coffin, which contained the remains of an elderly female, had lost its lid which lay a few feet away. This lid bore the partly worn carving of a cross with a 'Calvary Mount base' similar in style to 11th and 12th century examples from Lincolnshire.
Based on these stone coffins the second church was dated to the early 12th century. No date was suggested for the foundation of the earlier church but the abundance of late-Saxon-ware indicated a pre-Norman foundation.