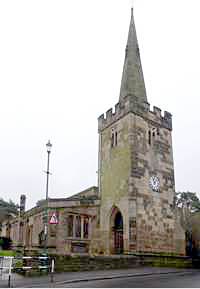 Wollaton
St Leonard
Nottingham Archdeaconry
Nottingham North Deanery
Introduction
Wollaton appears in Domesday Book as 'Olaveston', meaning Wulflaf's farm. There is no reference to a church, although it is not definite that none existed.
St Leonard's Church is set in a roughly square churchyard, geographically central in its parish, and has retained an overall medieval aspect. A small doorway which is now incorporated into the south chancel aisle suggests that there was a stone structure around 1200. A list of rectors dating from at least 1236 shows that by that time Wollaton had become a fully fledged parish. Within the next two centuries the building was gradually extended to the west and north.
The west tower is of particular interest, being built with a passageway through it to enable processions to encircle the building. This is a relatively rare feature, more so because the church's passage has been blocked, reopened and blocked again over the past four centuries.
A rare surviving medieval service-book, the Wollaton Antiphonal, came to the church in 1460, and is now deposited with the University of Nottingham.
For 600 years Wollaton was intimately related to the Willoughby family, and there are numerous monuments in the church dedicated to them, and one to Robert Smythson, designer of Wollaton Hall, which was the Willoughby seat from the late 1580s.
Particular thanks to Malcolm and Mary Stacey for research on this entry
and thanks to the Staceys and Geoff Buxton for the photographs.