Wysall Holy Trinity
Churchyard
Grave marker to
Hannah Smalley
(died 1721)
Grave marker to
Joseph Frank
(died 1721)
Grave marker to
Grace Hogg
(died 1744)
Grave marker
to Sarah Glover
(died 1761)

1884 OS map showing
the circular churchyard.
© Crown Copyright and
Database Right 2016.
Ordnance Survey
(Digimap Licence)
The churchyard is roughly circular in shape and covers an area of approximately 0.4 ha. The church is located in the centre and there are burials on all sides.
The grave markers are of varying legibility, dependent on the material used. There is a very fine collection of very large Swithland Slate headstones quarried from the Cambrian succession of Charnwood in Leicestershire.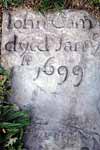 Gravestone of
John Cam who
died in 1699

From the graveyard plan (date given as 20th century) the earliest grave is dated 1703 and is un-named; the earliest named grave is that of Phillip Glover and is dated 1724. However, on inspection of the graveyard, an earlier tombstone was discovered and is that of John Cam who died on 1 January 1699.

The plan shows that at the time there were 223 named graves and 18 un-named graves.

Ogef K Blunk of the German Air Force was buried in a War Grave 19th March 1948 under the auspices of the Imperial War Graves Commission. The church was paid ten shillings per annum by the Commission for the upkeep of this grave. However, no trace of this gravestone can be located despite its identification on the plan of the graveyard. It appears that it was common practice for prisoners of war to be put to work on the land and is therefore likely that Blunk was of that group.

In 1960 twenty-two slate headstones were laid flat on the graves to which they belonged on the South-East side of the Churchyard to allow the ground to be levelled and kept in good condition.

In 1981, a part of the churchyard was designated for the interment of the ashes of those who have been cremated. In 1983, it was decided to place a memorial plaque on the back of a garden seat in the Garden of Rest. The Garden was relocated to the west side of the porch in 1988.

The Annual Report for 1986 stated that the Charity Commissioners had given permission to the Trustees of the Patty Bosworth estate to sell the land, one quarter of which would be bought by the Wysall Parish Council for use as a new burial ground with an option for the purchase of a further one quarter.