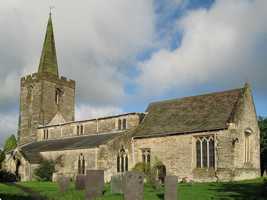 Wysall
Holy Trinity
Nottingham Archdeaconry
East Bingham Deanery
Introduction
Wysall is a village to the south east of Nottingham, close to the border between Nottinghamshire and Leicestershire. The population stood at just over 300 in 2010.
In a prominent position to the south of the village stands Holy Trinity Church, on which site a church has probably stood for over one thousand years. There is some evidence that the church existed in Anglo-Saxon times. The Normans built a church on this site in the 11th or 12th Century. Most of the present building was erected around the 14th or 15th Century, the spire perhaps being rather later.
Externally, the church stands much as it has done since that time. The buttress at the southeast corner appears to be very untidy and suggests that some damage had been caused to this section of the wall prior to the restoration of the 1870s.
The Church has undergone several restorations and repairs in its long history, all of which have combined to produce what has been rightly described as a "quite charming" building.
Particular thanks to Alan Butler for research on this entry
and to Geoff Buxton for photographs