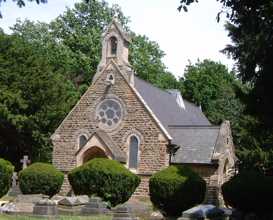 Bestwood
Emmanuel
Nottingham Archdeaconry
Nottingham North Deanery
Introduction
Emmanuel Church Bestwood is Victorian, the foundation stone being laid in 1869. The architect was S S Teulon, who also built nearby Bestwood Lodge for the 10th Duke of St Albans. The church is in Early English style, of local Bulwell stone, Magnesian Limestone.
The Duke built the Church for his family, estate workers and the inhabitants of Bestwood village with its developing Coal and Iron Company as the chapel included in the Lodge was too small. The Duke transferred the land to the Ecclesiastical Commissioners for use as a Church and Churchyard in 1874. Five memorial windows by William Morris & Co date to 1911.
Although now surrounded by modern housing, the Church is still in a wooded setting with a Lych gate and mature Yew and Scots pine trees. There are clipped Yew bushes either side of the footpath from the Church View Close entrance. In the churchyard is a family plot where the 10th Duke and his Duchesses and 11th Duke are buried. A porch with stone seat was added as a memorial to 23 year-old Duchess Sybil, the first wife of the 10th Duke after her death in 1871.
Particular thanks to Brian & Pauline Miller for research on this entry