Caunton St Andrew
Churchyard

South part of the
churchyard with
table tombs

Churchyard gates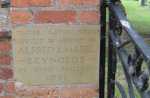 Inscription on
the gatepost

The churchyard contains many mature trees, probably planted at the Victorian restoration, including a line of yews along the western side, while on the southern side a grassy slope leads down to The Beck.
Gates
Wrought iron, with inscription on left pillar:
THESE GATES WERE
ERECTED IN MEMORY OF
ALFRED & MABEL
REYNOLDS
BY THEIR CHILDREN
1961
Early graves
The only graves earlier than mid-Victorian times are 3 table tombs on the south. They appear to be 18th Century, but there are no inscriptions and their attribution is unknown.
Incumbents
A number of former incumbents are buried in the churchyard.
On south side of chancel:
The Very Revd Samuel Reynolds Hole, 1819-1904, Dean of Rochester
Grave of
Dean Hole
Drawing of
Dean Hole
The Revd John Tinkler d1924
The Tinkler grave
Photograph of
the Revd J Tinkler
On north side of chancel

Grave of the
Revd AA Baillie
Revd A A Baillie d1926
Revd J S Barley d1949
Extension westwards in 1936; cremation plot authorised 1967
Clearance of some tombstones was undertaken about 1975. Many were placed against boundary walls; Caunton Local History Society recorded some inscriptions. Survey of churchyard and plotting of remaining graves was undertaken in 1992. There is a full record in the Vestry, including a scaled plan.