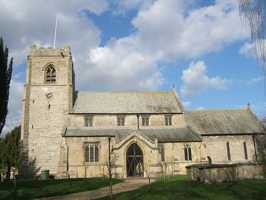 Caunton
St Andrew
Newark Archdeaconry
Newark and Southwell Deanery
Introduction
The church is modest in scale but with a classic plan – nave with north and south aisles (both with altars in the Middle Ages), chancel and western tower. It is sited in the centre of the village, The Beck forming part of the churchyard boundary (perhaps accounting for the dedication) and lined with weeping willows.
The village, but not the church, is mentioned in Domesday Book. Norman piers suggest that the first stone building was constructed in the early 12th Century but reconstruction and enlargement by one bay took place about 1180; the north arcade and lower stages of the tower date from this period. In the next century the chancel arch and fine ogee-arched south porch doorway and matching piscina in the chapel in the south aisle were added.
The tower was heightened in stages and is topped with a 15th Century frieze, battlements and gargoyles.
Points of historic interest are three medieval piscinas, 13th Century font, the stiff-leaf carving on south aisle capitals, and medieval carving behind the pulpit.
The chancel was substantially reordered by Ewan Christian in 1869. The East window was rebuilt as three lancets in the Early English style, with stained glass designed by J W Powell. In the tower are three 17th Century bells and at the end of the 20th Century the ringing gallery and three additional bells were added.
Particular thanks to Derrick Fielden and to Michael & Elizabeth Jones
for research on this entry, and to Adrian Davies for additional photography