East Bridgford St Peter
Bells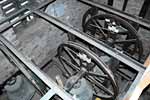 Bells and bellframe
Since 1649 the church has had six bells, the churchwardens' accounts of 1755 noting a charge of '£00 13s. 9d. for 6 bel strings'. The bells are hung in the west tower.
When the tower was rebuilt in 1778, the second, fifth and sixth were recast, and all six rehung in a new frame.
In 1844 the fifth was recast by Taylors of Loughborough and in 1870 they also recast the fourth and put new fittings on the third and sixth.
1914 saw the bells rehung on ball bearings in a cast iron H frame by Gilbert and Johnston and in 1963 the rehanging on new ball bearings by Taylors.
Two new bells were installed in 2002. The two additional bells were cast by John Taylor Bellfounders Ltd. and installed by Hayward Mills Associates, to mark the Golden Jubilee of Queen Elizabeth II. Treble Bell raised by public subscription, second by interest from a bequest made by a brother and sister who were vergers at this Church for over 50 years.
Inscription
Size
Weight
1
EAST BRIDGFORD GOLDEN JUBILEE ER II 2002
26.5"
4.1.14
2
IN MEMORIAM LESLIE AND DORIS HAND
27.5
4.2.6
3
1649
28.75"
4.1.12
4

GLORY BE TO GOD ON HIGH JOSEPH CAUNT & THOS. ALLYSTER C:W

THOMAS HEDDERLY FOUNDER NOTTINGHAM 1778

29.25"
4.1.16
5

IESVS BE OVR SPEDE 1631

W : I

31.25"
5.1.15
6
J TAYLOR & C

O

FOUNDERS LOUGHBOROUGH 1870
35.75"
7.0.13
7
J:TAYLOR, FOUNDERS LOUGHBOROUGH 1844 R:W:HUTCHINS RECTOR T:LEVERS & T:FREEMAN C:WARDENS
38"
8.0.24
8 F

TO THE CHURCH THE LIVING CALL: AND TO THE GRAVE DO SUMMONS ALL: 1779

JOSEPH CAUNT & THOS. ALLYSTER CHURCHWARDENS: THOS. HEDDERLY FOUNDER NOTTINGHAM

41"
11.2.1