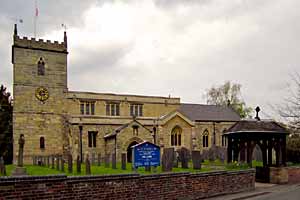 East Bridgford
St Peter
Nottingham Archdeaconry
East Bingham Deanery
Introduction
The site of St Peter's has been a place for worship for over 1000 years, and a church is mentioned in Domesday. This church may have lasted until the thirteenth century when it was substantially rebuilt with aid from the Chapter of Rouen Cathedral. The chancel is the only remaining feature of this rebuild but fragmentary remains of the pre-Conquest building appear to survive in the south wall. The foundations of the nave and chancel side walls are also pre-Conquest.
The fourteenth century saw the enlargement of the nave undertaken by the Caltofts and the founding of a chantry by William Dayncourt. Further work in the nave was undertaken by the addition of clerestory windows in the fifteenth century. No work was done on the fabric after the fifteenth century, and by the later part of the eighteenth century it was very dilapidated, so much so that so that in 1778 the tower was rebuilt or refaced and the roof replaced.
New windows were put in the chancel in 1862, and in 1901 a two-stage restoration under C E Ponting, FSA was started, and completed in 1914.
Particular thanks to John Kitchen and Andy Nicholson for research on this entry
and to Geoff Buxton for the photographs.