East Bridgford St Peter
War Memorial
The War Memorial,
looking West
The War Memorial,
looking East
Erected June 1920, sited at eastern corner of the graveyard overlooking the crossroads.
A gritstone cross, approximately fifteen feet high designed by C E Ponting. It has an octagonal fluted shaft set on an octagonal plinth in turn set on a square plinth raised on three steps.
The cross head has the upper arms terminating in diamonds with the intersection of the arms surrounded by a concave square with fleur de lys on the exposed angles.
The top steps on the eastern side are inscribed:
TO THE MEMORY OF THE FALLEN IN THE GREAT WAR
1914-1918
THEIR NAME LIVETH FOR EVERMORE
On the square plinth above a bronze tablet with raised lettering giving names, dates but no ranks: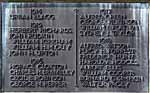 1914
URBAN BLAGG
1915
HERBERT RICHARDS
JOHN RUDKIN
WILLIAM KIRKHAM
WILLIAM H.M. GUY
JOHN H. UPTON
1916
HORACE CLOXTON
CHARLES H. BRAMBLEY
CECIL B. ROBINSON
GEORGE M. PEPPER

1917
ALFRED GREEN
GEORGE WILKINSON
WILLIAM B. PEATMAN
SYDNEY J. TAYLOR
1918
ALFRED WATSON
PERCY H. FORREST
FREDERICK HUNT
HAROLD A. HODGES
ALBERT ELLIS
WILLIAM COOPER
BERNARD G. SIMPKIN
WALTER PACEY
On the west side of the square plinth is another a plaque: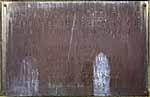 THIS TABLET WAS ADDED TO THE
MEMORY OF THE FALLEN IN THE
SECOND GREAT WAR 1939-45
1940
PHILLIP ISAACS
1941
HERBERT A.B. SHIPMAN
ALBAN JAMES CUDDY
1943
JOSEPH S. WILKINSON
1944
ERIC HUSKINSON