Edwalton
Holy Rood
Bells
The present tower of Holy Rood Church is believed to have been built in brick some time between 1552 and 1558, on the stone foundations of the old tower. The 1552 Inventory refers to "iii bellys off one accorde which were hangynge in the Stepull" and two small bells. It seems very likely that it was these three bells which were later recast. Two were recast by George Oldfield, in 1663 and, according to Gill in his guide book, 1664 (although an article in The Ringing World quotes 1634). Oldfield was a bellfounder whose premises were on Long Row, Nottingham. His distinctive marks of a cross, crescent, star and initials G.O. identify his work. These two bells were inscribed JESUS BEE OUR SPEED and GOD SAVE THE CHURCH respectively. The third bell, the treble, was recast by Thomas Mears, sometime owner of the famous Whitechapel Foundry which in its 400 years of existence cast such famous bells as Big Ben, Bow Bells and the Oranges and Lemons bells of St Clement Danes. The Churchwardens accounts show that this bell was ordered through William Bell, a general ironmonger of Nottingham, who probably installed it. The bell, weighing 3cwt 0qr 22lbs. cost £23 17s 4d and its oak mounting, etc. £1 4s 6d, making £25 1s 10d in all. The church was allowed £20 10s 8d against the old bell, which weighed 5cwt. 2qr. 4lbs. This was re-cast, leaving a net bill of £4 11s 2d to find on 22nd March 1834. The church also bought 3 new ropes for 14s 6d.
The Southwell Diocesan Magazine for November 1894, describing the reopening of Holy Rood with its new chancel, states that the tower contains three bells which unfortunately cannot be rung, as the whole ringing floor and cradle are rotten. In 1924 John Taylor & Co. of Loughborough removed the old frame and bells and recast the 3 bells at a total cost of 250. They also made provision with the main girders and an H frame so that three treble bells could be added later. Their design utilised every inch of space in the small 9ft 6ins. square tower.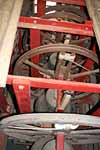 The bells
A bellringing band was formed in 1989 and in 1993/94 three parishioners each offered to pay for a bell in memory of loved ones. Generous donations were made towards the cost of the frames and of girders, wood, etc. needed for the mounting of the bells and the new floors, and the parishioners carried out much of the preparatory work themselves. Preparatory work was completed in November 1994, the bells were collected, brought into church, blessed in early December, and dedicated by the Bishop of Southwell on 19th February 1995. They were hung in time to ring in the New Year of 1995.
The present six bells
Inscription
Size
Weight
1

MAGNIFICAT ANIMA MEA DOMINUM

GIVEN IN MEMORY OF
LYNDA JAYNE WALTERS
1964 - 1978

1994

21"
2.0.16
2

I SPEAK OF FAITH AND LOVE

THE GIFT OF
WINIFRED LORNA HADDEN
1921 - 1993

1994

23"
2.2.18
3

GLORIA IN EXCELSIS DEO

GIVEN IN MEMORY
OF
KATE MARRIOTT
1941 - 1992

DAVID C BIGNELL - VICAR
1994

24.5"
3.0.14
4

THOMAS MEARS OF LONDON FOUNDER 1833

RECAST 1924

24.5"
3.0.23
5
IESVS BEE OUR SPEED 1663

RECAST 1924

28"
4.0.16

6

in C

+ GOD SAVE THE CHURCH 1664

RECAST 1924

30"
5.1.1