Edwalton Holy Rood
Monuments and Memorials

Alabaster mural tablet on the south wall of the chancel to various members of the Freeth family. The inscription reads:
HERE LIE BURIED SAMUEL FREETH
OF STANDARD-HILL NOTTINGHAM,
WHO DIED SEP. 26TH 1823, AGED
56 YEARS. ALSO DANIEL FREETH OF
STANDARD-HILL, WHO DIED DEC. 29TH
1840, IN THE 80TH YEAR OF HIS AGE.
AND FANNY, HIS WIFE WHO DIED DEC
14TH 1816, AGED 43 YEARS.
AND THEIR TWO DAUGHTERS, SARAH,
WHO DIED SEP 14TH 1847 AGED 45
YEARS. AND MARY ANN, WHO DIED
JULY 12TH 1864, AGED 59 YEARS.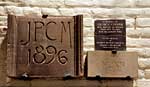 Plaques on the tower wall: J.P. Chaworth-Musters (stone transferred when old school building demolished), George Cooper and George Ernest Preston (Vergers), and Leslie W. Nunn (architect, stone rescued from the demolished vestry in 1994):
IN MEMORY OF
GEORGE COOPER
WHO SERVED AS VERGER
FROM 1976 TO 1983
DIED 9TH AUGUST 1984
TO THE MEMORY
OF
GEORGE ERNEST PRESTON
VERGER & BELLRINGER
FROM 1928-1963
Plaque to George Arthur Pritchett (porch door canopy)