Edwalton Holy Rood
War Memorial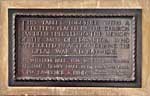 The First World War memorial consists of a brass plaque on the south wall of the south aisle and a brass eagle lectern.
The inscription on the plaque reads:
THIS TABLET TOGETHER WITH A
LECTERN PLACED IN THE CHURCH
HAS BEEN ERECTED TO THE MEMORY
OF THE MEN OF EDWALTON WHO
WERE KILLED IN ACTION DURING THE
GREAT WAR A.D. 1914 - 1918.
PTE. WILLIAM BALL. 15th. Bn. Sherwood Foresters.
PTE. JAMES HENRY HALL. 1st. Bn. Royal West Kents.
LT. COL. LAWRENCE A. HIND. 7th (Robin Hood) Bn. Sherwood Foresters
Further information on the men listed is available on the Nottinghamshire Great War Roll of Honour website.
Roll of Honour
Immediately below the plaque is a wood and glass case containing a bound Roll of Honour which includes name, rank, unit and also records details such as 'wounded' or 'prisoner of war'.