Huthwaite All Saints
Churchyard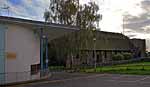 All Saints' Centre
and church
The churchyard is approximately rectangular, occupying a position between Blackwell Road and Common Road. The church building occupies the southern portion of the site and the church hall (All Saints' Centre) has been constructed to the east. There is an access road via the south and some car parking, the main car park lies to the north of the church hall.
To the north of the church is a simple green space, grassed, no burials.
Boundaries comprise, to the west a low stone wall the access roadway and a pedestrian gate; the same wall continues around onto the north side; to the east there is a wooden fence; to the south a stone wall and trees divides the churchyard from adjacent properties.