Huthwaite All Saints
Monuments and Memorials

Plaque of miner
In the centre of the north aisle north wall is a bronze plaque showing a miner hewing coal, with tools of the mining trade and pit-props in the background. It is by Wendy Stevenson, 1983, and is to commemorate the past workers of New Hucknall colliery. Below is a plaque on a shelf inscribed:
THIS CHURCH WAS BUILT WITH STONE TAKEN FROM THE DEEP HARD SEAM OF NEW HUCKNALL
COLLIERY AND THIS PANEL PLACED HERE TO THE GLORY OF GOD BY MINERS AND THEIR
FAMILIES TO COMMEMORATE THOSE WHO LABOURED THERE FROM 1876 TO 1982.
Towards the east end of the north aisle is a stone plaque with stylized egg and dart border inscribed: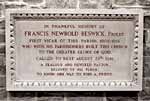 IN THANKFUL MEMORY OF
FRANCIS NEWBOLD BESWICK, PRIEST
FIRST VICAR OF THIS PARISH 1905-1918
WHO WITH HIS PARISHIONERS BUILT THIS CHURCH
TO THE GREATER GLORY OF GOD.
CALLED TO REST AUGUST 25

TH

1941.
A ZEALOUS AND DEVOTED PASTOR,
BELOVED OF HIS FLOCK:
TO KNOW HIM WAS TO FIND A FRIEND.
There is a brass plaque inscribed:
In affectionate and thankful memory
of one who loved this church
GEORGE BEASTALL
Dec. 26th . 1888 - Dec. 13th. 1973
People's Church Warden
1941 - 1951
There is another brass plaque inscribed:
IN LOVING MEMORY OF
FRANK AND CLARA WESTON
1895-1985
1897-1987
THEY LIVED AND LIVE IN CHRIST