Huthwaite All Saints
Features and Fittings
Chancel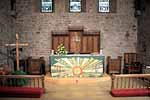 The sanctuary

The reredos
Altar
There is a single altar table at the east end of the chancel, date unknown.
Altar rails
Light wood, carved ballusters supporting moulded rails, date unknown.
Reredos
A carved wooden reredos behind the altar with an openwork top and panels with decorative moulding in the upper part, moulded sides. Date unknown but probably early 20th century.
Chair and prie-dieux

Chair and prie-dieux
Either side of the reredos, carved wood, probably early 20th century.
Choir stalls

Stall on the north
side of the choir
Either side of chancel, carved panel frontage emulating 'Y' bar window tracery and ogee moulding. Probably early 20th century.
Reading desk
Light wood, simple stand with plain cross on front panel, probably later 20th century.
Vestry

Mouse carving
Various cupboards and a table, some by Thompson of Kilburn with his trademark mouse carving.
Nave
| | |
| --- | --- |
| The pulpit | Detail of the pulpit |
Pulpit
In the north-east corner of the nave, elaborately carved with geometric and ogee moulding, panelled, wooden pulpit. Two angels carry shields bearing, IHS, and AS (for All Saints).
Probably 1903 - contemporary with the building of the church.
Font
| | |
| --- | --- |
| The font | The font cover |
Octagonal, stone, with alternate ogee moulded panels and bronze crucifixion carving in the centre (probably a late 20th century addition). The wooden font cover has a plaque reading:
IN LOVING MEMORY OF
MARTHA WRIGHT
DIED FEBRUARY 15TH 1958
AGED 62 YEARS
On the base of the font is a bronze plaque reading:
To the Glory of God
this font was given by
the children attending
St Paulinus mission church
and Sunday School
December 12

th

1903
F.N. Beswick
Priest in Charge.

Suffer little children
to come unto Me'.
Seating
Late 20th century chairs throughout.
Cupboard unit
The west end of the nave contains a fitted cupboard unit, 20th century.