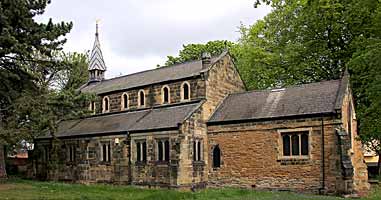 Lenton
Priory Church of St Anthony
Nottingham Archdeaconry
Nottingham South Deanery
Introduction
The church was partially demolished in 1844 and rebuilt in 1883-4 by the architects Evans & Jolley on the site of what was possibly the chapel of the Hospital of St Anthony, part of the monastic buildings of Lenton Priory founded before 1108 by William Peveril.
It is thought that the walls of the chancel are those of the original 12th century chapel. Norman carving can be seen on the two blocks of stone that form part of the present altar step.
The church today consists of a chancel, vestry, and nave with clerestory, aisles and porch. The chancel has angled buttresses and a three-light Decorated east window with 19th century stained glass. On the south side is a 13th century pointed arched window with 20th century stained glass and a three light flat-headed 19th century window. The south aisle has five flat-headed windows with two lights with similar windows at the east and south end of the aisle. The nave has six pointed arched clerestory windows on the north and south side of the church.
The north aisle has buttresses and four bays with three flat-headed windows and three lights with a similar window to the west.
The west gable has angled buttresses and a small square wooden bell tower with a lead covered pyramidal bell spike. The west end also has a memorial stained glass window by Burlison & Grylls to Sir Albert Ball, father of Captain Albert Ball VC, installed in 1950.
On the south side of the chancel is a 13th century piscina, and on the north side is a 19th century aumbry and piscina.
Above the chancel arch are the royal arms of either Charles I or Charles II.
Particular thanks to Doug Fletcher, Matthew Phillips and Andy Nicholson for research on this entry
and to Geoff Buxton and Doug Fletcher for the photographs.