South Leverton All Saints
Clock

The clock

The clock face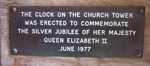 Plaque in the
church porch
The clock is modern. The clock face is on the west side of the church tower and is blue with gold hands. It cost approximately £4000, raised by public subscription. A sign in the porch states:
THE CLOCK ON THE CHURCH TOWER
WAS ERECTED TO COMMEMORATE
THE SILVER JUBILEE OF HER MAJESTY
QUEEN ELIZABETH II
JUNE 1977
It was finally installed in 1978. In 1987 the face was repainted.