South Leverton All Saints
War Memorial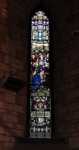 The War
Memorial
window
Memorial Window
A stained glass lancet window on the south wall of the chancel is to commemorate the men of South Leverton who were killed in action 1914-18.
The inscription on the bottom section of the window reads:
TO THE GLORY OF GOD & IN MEMORY OF ARTHUR FDK.
CLARKE ERNEST HEWITT FRED SMITH MM & BR WHO GAVE
THEIR LIVES FOR THEIR COUNTRY IN THE GREAT WAR
1914-18 THIS WINDOW IS ERECTED BY THE PARISHIONERS
Notes
Arthur F Clarke, who was killed on the 1st July 1916 was the only son of the Rev A E Clarke who was the incumbent of South Leverton during the 1st World War years. There is a separate brass plaque to his memory.
Fred Smith was awarded MM and bar. The Military Medal was introduced in March 1915 for non-commissioned ranks. Some 23,000 were awarded but only 5000 were additionally awarded the Bar.
The memorial window was installed in December 1919.
Individual Memorials
Arthur Frederick Clarke
A brass plaque on the north wall of the chancel reads:
IN HONOURED AND LOVING MEMORY OF
ARTHUR FREDERICK CLARKE,
ONLY SON OF THE VICAR OF THIS PARISH,
WHO GAVE HIS LIFE FOR HIS COUNTRY
AT THE BATTLE OF THE SOMME JULY 1

ST

1916,
AGED 21.
John William Akerman Morgan
A brass plaque towards the east end of the north wall of the chancel reads:
IN LOVING MEMORY
OF
COLONEL JOHN WILLIAM AKERMAN MORGAN
OF THE PRIORY
INSPECTOR GENERAL, I.C.V.D.
ELDEST SON OF THE LATE
CAPTAIN EDWARD MORGAN, R.H.A.
BORN 22

ND

OCT 1856 D. 20

TH

DEC 1910