Cotgrave
All Saints
Bells
A western tower containing a ring of 8 bells.
Inscription
Size
Weight
Treble

JOHN TAYLOR & CO * FOUNDERS * LOUGHBOROUGH * 1984 *

+ ME SPEDE
F. R. BARBER
D. WOOLLARD
CHURCHWARDENS
G. B. BARRODALE
RECTOR

27.5"
4.2.24
2

JOHN TAYLOR & CO * FOUNDERS * LOUGHBOROUGH * 1984 *

GOD GRANT THAT WE MAY
LEARN FROM OUR PAST,
REJOICE IN THE PRESENT
AND
SHARE A VISION FOR THE FUTURE

THIS BELL WAS CAST IN
1984
THE CENTENARY YEAR OF OUR
DIOCESE OF SOUTHWELL
+ DENIS IS OUR BISHOP, BRIAN IS OUR RECTOR

28.5"
5.0.14
3
J. P. HALES, RECTOR
J. F. DIXON )
J. MANN ) CHURCHWARDENS
*1906*
30"
5.1.21
4

GOD SAVE THE CHURCH 1651

RECAST 1906

32.5"
6.2.17
5
GOD SAVE OUR CHURCH 1614
34"
6.1.3
6

T.MEARS OF LONDON FECIT 1827

JOHN MORLEY
ROB.T BARLOW
CHURCHWARDENS

RECAST 1906

37.5"
9.1.27
7

VT SEMEL ES PETRVS SIT QVOQVE PETRVS ERIS

H D

RECAST 1906

42"
12.2.24
Tenor (E)
Hec Campana Sacra Fiat Trinitate Beata
46"
17.0.18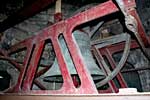 6th bell
Hung in a cast iron H-frame, originally for 6 bells, but remodelled for 8 in 1984, with 7 pits on one level and a low-sided frame for the 6th above. (Click for archaeological information.) All bells have cast-iron headstocks, ball bearings etc. All the bells except the 5th and 8th are by Taylors, the 1906 bells having the old inscriptions reproduced facsimile. The 5th bell is the work of Henry II Oldfield, whilst the tenor is a fine bell by the Mellours, possibly Richard, c1472- c1508. The old 7th was probably cast by Henry Dand in 1592 or 1593, for in September 1593 nine inhabitants were cited for not paying their "layes" for the casting a new bell. The large badge on this bell is the arms of Sir Robert Pierrepont who died on 6th March 1333.
Prior to 1827 the 6th bell was inscribed:
MY SOUND IT IS EACH MAN TO CALL TO SERVE THE LORD BOTH GREAT AND SMALL
WILLIAM THORNTON, ROBERT SCRIMSHAW 1777 THOMAS HEDDERLY FOUNDER.
Thomas II Hedderly records this in his notebook:
Cotgrave 3d bell 37.75" wide 2.5 thick 9:2:16
Thus this bell would have been heavier than the old 7th !
There is a long history of ringing here. As early as January 1604 there were a band of keen ringers who found themselves on the wrong side of Thomas Hunt, rector of the First Mediety of Cotgrave, for excessive ringing. Hunt was accused of using force against the ringers and admitted that:
'... in and upon the said Feaste daye of St. Stephen laste paste the said personnes straighte after Evening prayers donne did ringe all the bells of the Church of Cotgrave aforesaid as also theie and others had donne bothe before the same Evenings prayers the same daye and at many other tymes in such excessive wise that the people being therewithall offended requested him the said Thomas Hunte to stave and not suffer them so to ringe. Wheereuppon he (as he saith) with some others of his neighbours required the said personnes to desiste and leave ringinge and so theie did and departed. And that soone after theie gotte to the belles agayne and ronge agayne as before, and that then he at the motion of somme of his neighbours came and eftsoones required them to cease and give over which to doe theie expressly refused sayinge thus or to this effect, we will ringe whether you will or no, be good in your office you cannot tell howe longe you shall have it, with other rude and contemptuous speeches, and that he the said Thomas Hunte not well induringe that theie shoulde so insolentlie both offend his neighbours and contemne him in his Church charged theme to desiste and departe, and theie not regardinge his words, did with a smale cudgill wheerwith he useth to walke strike them the said Champian, Smith, Whittington and Humfrie over the shoulders & gave everie of them a drie blowe without anye hurte to anye of their personnes & so lefte them." And then the said Thomas Hunte prayed the benefit of absolution from the sentence of excommunication, if by chance he had incurred it by reason of the premises, to be granted to him. And then the judge decreed him to be absolved from the sentence of excommunication which he had incurred "ipso facto" by reason of the premises, and absolved him decreeing him Letters Testimonial.'
Much later there was a Society of Change ringers who were competent. There are no references to their ringing, but the local paper in 1831 recorded the death of one of the band:
"At Cotgrave ...(died).. John Simpson aged 89 .... being one of the oldest change ringers in England, a muffled peal was rung on the occasion of his funeral on Monday morning last, by the Cotgrave Society of Change ringers."
The band must have broken up soon afterwards, for a peal board of 1906 records the death of a founder member of the local band.