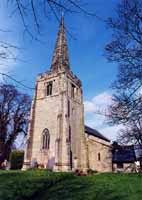 Cotgrave
All Saints
Nottingham Archdeaconry
East Bingham Deanery
Introduction
The church consists of chancel, 4-bay clerestoried nave, north and south aisles, north organ chamber, north vestry, north kitchen and toilet extension, south porch and three-stage west tower with embattled parapet and spire, a clock and 8 bells. It dates mainly from the 13th-15th centuries, but the earliest feature is the late 12th century chancel arch with its half pillars and waterleaf capitals.
In 1877-8 the church was restored by the Nottingham architects, Evans and Jolly. The work involved the removal of the gallery at the west end of the nave and the plaster ceilings in the nave and chancel, the box pews replaced with benches, a vestry was added to the north wall of the chancel and a south porch built. A new font and pulpit were also provided. In 1899 an organ chamber was built next to the vestry and a new pipe organ installed.
An arson attack on the church took place on 9 May 1996 and the tower and nave were badly damaged. Restoration was supervised by the architects, John Cunnington of Matlock. A new nave roof was built, the tower timberwork replaced and a spiral staircase to the ringing chamber added, underfloor heating installed and the layout of the interior reordered. The church reopened on 14 December 1997. Archaeological excavation inside the building revealed the foundations of the 12th century church.
The late 13th century four-bay arcades have quatrefoil piers with fillets, moulded capitals and double-chamfered arches; the responds are corbels, supported on the east side on single, carved human heads.
The east window depicts the Crucifixion with the figures of St. Mary and St. John the Evangelist, on either side. It was subscribed for by the parishioners and is in memory of all those from the parish who served in the First World War.
The Christus from the Flames figure by sculptor Peter Eugene Ball of Newark is fixed to the east wall of the nave above the chancel arch. Made in 1998 using salvaged timbers from the church and designed to be similar to the larger version in Southwell Minster.
The octagonal stone font from 1878 survived the fire and the carved wooden eagle from the lectern was salvaged and mounted on a modern oak lectern/pulpit base.
Particular thanks to Geoffrey Oldfield and Andy Nichoson for research on this entry
and to Geoff Buxton and Dr Chris Brooke for photographs.