Nottingham All Saints
Glass

East window
The East Window and chancel
There are five windows set around the five sides of the east end; the central light is decorated. Each consists of a pair of tall thin glazed areas with a pattern rather like an "eight-pointed flower" above. The central window shows the last supper.
The remaining four lights, like the rest of the glass in the church, are all a mix of opaque clear and a light greeny grey. The building may have good acoustics but it is not good for clear light. With bright sun the glass produces a bright gloom; with overcast skies there is only the gloom.
There are also two further "eight-petalled flower" shaped lights on the side walls of the chancel west end. The same mix of tall lights surmounted by four or eight-petalled "flower shapes" is apparent through the rest of the building.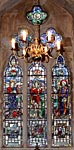 Lady Chapel
window
Other decorative windows
Lady Chapel
This window was given by the congregation in 1922 in memory of the Reverend Thomas W Windley, fourth Vicar, 1902-12, and eldest son of the benefactor who paid the cost of the entire site. They knew him as a missionary, a pastoral man and teacher and as someone experienced in the Indian sub-continent. Hence the three lights are descriptive, left to right, of St Paul preaching at Athens with a 17th century seal of the Society for the Propagation of the Gospel with whom Windley's missionary work had been carried out. Centrally, the window depicts the Sermon on the Mount and on the right St Thomas, name saint of the man and apostle of India.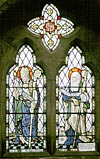 Window in north
aisle depicting
St. Aiden and St. Hilda
North and south transepts
The south transept is devoted to the war memorial.
There is one decorated window in the north aisle, given in memory of Mary Grant, and two plain windows. The decorated window depicts St Aiden and St Hilda.
At the west end of the south transept the church banner is kept in a glass case.
The north transept is now used as a baptistry. As in the south aisle the window nearest the transept is decorated in memory of Alexander and Alice Milne, who died in 1927.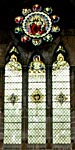 Window at west
end of north aisle
North and south side walls
There is one decorated window at the east end of both the north and south side walls. These are in memory of Alexander and Alice Milne (1927).
The West end 'rose window' lies above three lancet windows and was designed for the baptistry. It depicts Christ holding children and is surrounded by ten smaller round windows depicting Christ holding children and 10 Seraphim.
The Neville Memorial (1882) and his sons (1887) depicts the Last Supper and Christ in majesty.