Nottingham All Saints
War Memorial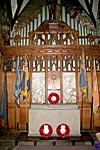 The listing of almost 200 names on the War Memorial gives a clue to the impact of the war on a parish of 7-8,000 people, around 2000 households.
There is no altar at the War Memorial, though the appearance of one is given by the screen behind the memorial designed by Harry Gill in the 1920s.
There are 5 banners laid up here Royal Tank Regiment, RAF Association, two British Legion banners and one Guide Association.
Left-hand panel:
Charles Palmer Antill
Carl Wanstall Fox
William Allwood
Arthur Cyril Frettingham
Percival Henry Biddulph Furley
William Baker
Arthur Gamble
Harold William Ballamy
Bernard Gibson
Maxwell Dalston Barrows
Harry Guilford
Richard Bate
William Henry Harvey
John Elmer Bell
Raymond Harvey
Charles Bonsor Heathcote
Joseph Bonser
George William Henley
William Bradshaw
John James Henley
Charles George Brown
Cecil Hockaday
Lionel Charles Browne
Albert Percival Ash
Leslie Grosvenor Hodgkinson
Gordon William Burgess
Henry Hurst Hooton
George Butler
Charles Hopewell
Stanley Ewart Cairns
Edward Howett
Frederick Harry Wright Carnell
Harold Cecil Caulton
William Howie
Alfred Rowland Hutchinson
Alfred Clark
Cecil Edward Jackson
Harry Clarke
Charles Edward Jackson
John Joseph Clarke
Arthur Johnson
Walter William Clarke
Paul Headley Johnston
Leonard Coupland
Isaac Ernest Keeling
John Court
Robert Frederick Keetley
Arthur Craven
Stanley Keetley
William Edward Cross
William Thomas Keeton
Noel Dalton
Henry Key
Arthur John Derry
Arthur Sidney K[...]
Herbert Mackintosh Dickinson
Charles Lane
James Diggle
David Alexander Lane
Walter Dyson
Fred Foster Lane
Bernard Farrill
Harold Henry Lee
Joseph Foster
Thomas Fred Lister
Central panel:
HALLOWED IN CHRIST
be the MEMORY of all
the gallant men of this Parish
who fell in The Great War for the
Freedom of the World
They shall yet stand before the
throne an exceeding great army
and in the last muster there
shall be found these our own beloved
Left-hand panel:
John Lokes
William Russell
Alec Long
Leonard George Simpson
Harold Lucas
Harold Underwood Slater
Matthew Alexander McIllwraith
Charles Smith
William Henry Marshall
Harold Leslie Smith
Arnold Roy Martin
Edward Smith
George Mason
Edwin Smith
Will Mason
Arthur Spray
James Maxwell
Harold Frederick Stevens
Percy William Mellor
William Storey
William James Montgomery
David Thomas Moreton
Alfred Stanley
John Moss
Percy Taylor
Frank Moult
Sidney Tee
Rowland Nixon
Lawrence Thompson
Mark Anthony Norris
Harry Odam
Edward Walter Tomlin
George Osborne
Reginald Ernest Trease
George Parker
Sidney Charles Trease
Frank Pell
Albert Henry Upton
John Pell
Herbert Wade
Percy Vincent
Claude Perry
Frederic Piggin
Sidney Wade
Francis George
Kikuye Wallace
Clarence Pitchford
Frank Walters
Alfred Porter
William Walters
Herbert William Warwick
Alfred Victor Potter
Riley Waterfield
Wallace Powell
Louis Henry Warwick
Arthur Purdy
John George Whittle
Claude Rands
William Whittle
Frank Reachill
Arthur Montagu Williams
George Reed
Tom Wilson
Joe Reed
Leslie Collins Woodward
James Arthur Robinson
Walter Woodward
William Haldane Round
Edward Russell
Archibald John Wright
John Lokes
William Russell