Nottingham All Saints
Monuments and Memorials
North aisle
Marble tablet

TO THE GLORY OF GOD
AND IN PROUD AND LOVING MEMORY OF
MAJOR LESLIE COLLINS WOODWARD D.S.O.
"B" BATTERY 63

RD

BRIGADE R.F.A.
WHO FELL FIGHTING VALIANTLY AT MARICOURT FRANCE
SEPTEMBER 3

RD

1918. AGED 26 YEARS
"So he passed over, and all the trumpets
sounded for him on the other side."
South aisle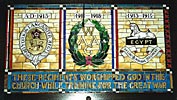 Memorial to the York and Lancaster Regiment, the Women's Army Auxiliary Corps and the Lincolnshire Regiment who, during World War I, were camped in the Arboretum and worshipped at All Saints church.
Marble tablets

IN AFFECTIONATE REMEMBRANCE OF
LIEUTENANT EDWARD CECIL
JACKSON
(15TH SHERWOOD FORESTERS)
BORN JAN

Y

27

TH

1895, KILLED AT
NEUVE CHAPELLE MAY 31

ST

1916.
"HE GAVE HIS LIFE TO HOLD THE LINE
AND DO HIS DUTY, A MOST CAPABLE
OFFICER, BELOVED AND RESPECTED BY
ALL, ESPECIALLY BY HIS OWN MEN."
CALLED TO A HIGHER SERVICE.

IN LOVING MEMORY OF
SERG

T

PERCY TAYLOR,
1/7 SHERWOOD FORESTERS R.H.R.
BORN 24

TH

1885,
KILLED IN ACTION JUNE 18

TH

1915,
AT ST ELOI, N

R

YPRES, BELGIUM,
WHILST NOBLY FIGHTING FOR HIS
COUNTRY.
GREATER LOVE HATH NO MAN THAN THIS,
THAT A MAN LAY DOWN HIS LIFE FOR HIS FRIENDS.