Nottingham
St Peter
Churchyard
The churchyard surrounding the church was originally enclosed in 1804. It was reduced in area in 1870 and again in 1884 when both St Peter's Gate and St Peter's Square were enlarged. The last interment was in 1880, no new graves being allowed to be opened after 1856.
A further reduction at the west end of the churchyard was made in 1965 and 1966, when a double bored-piled curtain and a stone-faced retaining wall were constructed to support the tower foundations and those to the west end of the church. A new retaining wall and railings were built along the St Peter's Gate frontage, with the railings continuing around the west end where five shields were displayed representing the keys of St Peter, the shells of St James, and the arms of the Archbishopric of York, the City of Nottingham and the See of Southwell. A new gateway giving access to the St James's Room door was provided giving on to St Peter's Gate. The principal approach staircase to the west door was provided from a northerly direction from St Peter's Gate.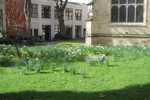 The area now used for
cremated remains (with
St Peter's Centre in
the background)
In 1998 new steps were erected from St Peter's Square to the West Door, with a break in the railings at this point replaced by gates. These steps also give access to St Peter's Centre and to the west end of the churchyard, which was landscaped and partly paved following erection of the Centre. It is now enclosed at the east and west ends by high ironwork gates.
Part of the southeast corner of the churchyard (north of the south aisle window) has been set aside for the burial of cremated remains.
There was a burial ground in Broad Marsh (consecrated 1830, closed 1856), part of the former parish properties there. Deeds, plans and correspondence are with the Parish Papers. It was sold in 1965 under the provisions of the Broad Marsh Burial Ground Act 1960 and the remains removed to a marked site in Wilford Hill Cemetery.
The Allsop
family grave
Small slab recording
the tragedy of
one family
Churchyard monuments
There are a few good examples of Leicestershire slate memorials. Apart from the Doubleday family vault in the southeast corner of the tower no stones except the Alsop family (the last burial) are in situ; many with accompanying brasses have been removed inside the church to provide paving for the floors.