Nottingham St Peter
Monuments and Memorials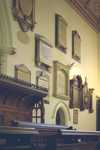 Monuments on the
north chancel wall
The list below gives the names and dates of those commemorated in wall-monuments in the church. The monuments, and particularly the persons commemorated, are described in more detail in the booklet The monuments of St Peter's Church Nottingham.
Monuments no longer in existence but referred to in earlier sources include that of the Rev George Cotes (d.1640), whose monument was 'broke into pieces' when the chancel was being repaired in the early 18th Century. and William Ayscough (d.1719), the first Nottingham printer.
Note: Monuments 37 and 39 to 42 were formerly in St James's Church, Standard Hill, and were transferred to St Peter's in 1933. This explains why John Burnett Stuart (1775-1847) is described as 'first incumbent of this church'!
Click the blue numbers on the key below for details of each memorial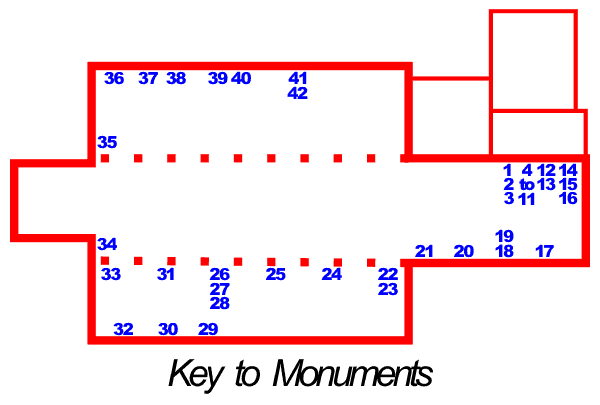 Chancel North
There are a large number of monuments on the north chancel wall at the eastern end.
3 A white marble memorial to Thomas Foster Gimson (1791-1876). He became wealthy as head of one of Nottingham's lace manufacturing businesses, but is described on this monument as "a most liberal contributor to the public Charities of the Town, and privately a kind friend to the poor."
Below the Roe family memorial are six much smaller metal plaques, some of which commemorate people also named on other monuments.
6 A small brass to John Tempest - the same John Tempest commemorated above.
7 Dorothy Bigsby (1771-99). She is also commemorated on a more major memorial noted below. (This brass plaque may originally have been a marker for her actual grave.)
8 John Renshaw (1772-1828), an attorney-at-law and a man of property (described here as "Gent"). A small brass memorial.
10A small brass to the Rev Samuel Martin (1743-82), Rector of St Peter's .
11Another small brass plaque, this being dediacted to Elizabeth Martin (d.1779 and wife of the Rev Samuel Martin commemorated above).
12Memorial to Mary Stubbs (1812-65). A fairly simple white marble plaque with an inscription noting a couple of particularly generous donations she made.
13

The Rev Robert White Almond (1786-1853). A decorative white marble plaque to a man who was Rector of St Peter's for 39 years. He was clearly a much loved and respected minister.
Chancel South
17 George Smith, of Foelallt, Cardiganshire (1775-1843), and his wife Eliza Margaret (1784-1826). A marble memorial of a similar design to a number of others in the church.
19 Dorothy Bigsby (1771-99). A simple oval in white marble. (Also in the church, noted above, is a small brass plaque commemorating the same lady.) Dorothy Bigsby with her husband Robert and family were much involved with St Peter's. Robert was Registrar for the Archdeaconry of Nottingham, and one of his brothers, Jeremiah, became Rector of St Peter's.
20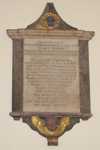 The Rev Edward Chappell (1692-1767), and his sister Judith (d.1767). A grey and white marble monument with touches of gold and blue. Edward Chappell was Rector of the church from 1725 until his death, a total of 43 years.
South Aisle
23 A brass plaque commemorates John Williamson Curtin (1833-1908) who was Master of the Bluecoat School.
24

John Rickards (1669-1703). This is quite a decorative marble memorial, with a significant amount of gilding and surmounted by the coloured coat of arms of John Rickards.
31 A marble oval within dark grey and white pillared surround commemorates the Rev John Gregory (d.1783). John Gregory was Rector of Norwell in Nottinghamshire.
32A small brass plate affixed to the panelling near the font is a memorial to Mary Elizabeth Gowthorpe (d.1934). The work at this time at the west end of the church, including the porch ceiling and the removal of the font, was paid for in her memory by her brother.
33

At the west end of the north wall of the south aisle is a small hatchment (approx 2' square) to William Cressy (d.1645). It is painted on wood, principally in black and gold.
West End of Nave
34A 20th Century marble plaque to James Forman (1856-1931), churchwarden from 1914-1931.
35Henry Sanders (1815-1851) - a fairly simple white marble monument with clear lettering.
North Aisle
There are also a number of floor stones. Most of these are now difficult to read, some are broken, and some have had other things fixed on top of them. Some of them may have been outdoor grave stones before being used for flooring the church.