Thrumpton All Saints
Churchyard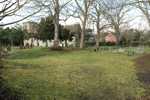 View across the
churchyard
The graveyard is very neat and tidy and during the spring it is amassed with snowdrops. Some of the memorials have been levelled and becoming overgrown with turf.
Adjacent to the east end of the chancel are six graves with headstones to members of the Byron family, formerly of Newstead Abbey, who resided at Thrumpton Hall.
From left to right, facing the chancel, these are for:
Frederick Ernest the 10th Lord Byron. Vicar of Thrumpton. Died 1949.
George Anson, 8th Lord Byron. November 20th 1870.
Philip Henry Douglas. Son of Rev. P.W. Douglas. Died February 14th 1914.
Lucy Elizabeth Jane, the wife of Rev P. W. Douglas. Died May 28th 1912.
George Frederick William, the 9th Lord Byron. Died March 30th 1917
Daughter of Frederick and sister of the 9th & 10th Lords Byron Died May 10th 1916.
To the right of the Byron graves and very close is an odd memorial made of a composite material inset with coloured stones in the pattern IHS, the S mistakenly reversed.
A path with a gate leads to the north door from the original vicarage, now Church House, of 17th Century construction. It is now in private hands but shows the 1650 renaissance pattern in the brickwork and has carved barge boards.
Another path leads to a gate facing the entrance to Thrumpton Hall.
At the north east corner of the church, in the churchyard, is the old 13th Century medieval font.