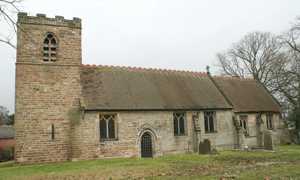 Thrumpton
All Saints
Nottingham Archdeaconry
West Bingham Deanery
Introduction
Thrumpton, then known as Termodestun, appears in the Domesday Records. Formerly owned by Danish Mercians by the names of Leofwine and Alnoth the lands were, by 1086, in the hands of a Norman, Roger de Bully although both William Peverell and Hugh de Grandmesnil had interests in various parcels of land.
Before that Termodestun was on a minor Roman road from Derby to Willoughby which crossed the Trent at Trent Shallows. There was, therefore, likely to have been a significant amount of traffic and travellers seeking to cross the river. No records exist of an Anglo-Saxon church.
Later, in medieval times, Thrumpton Hall became the seat of the Powdrells and on their fall from grace, the Pigotts. They in turn became impoverished and the lordship of the manor was sold to the Emmerton-Wescomb family in the 17th Century and thence came into the possession of Lucy Wescomb. Lucy became Lady Byron through her first marriage. Thrumpton Hall then passed to her nephew, Charles, the 10th Lord Byron (who also became rector of Thrumpton).
Each of the lords of the manor had a say in the church affairs and left their mark on the fabric. The church was altered several times, the last being in 1870, which work was commissioned and directed by Lucy Wescomb (Lady Byron).
The village grew in size based on agriculture and the management of the Hall. Gypsum mining was carried out and a plaster mill was built here on the banks of the Trent. The village is now largely residential.
The village has an 18th Century Church House next to the churchyard which was given by Lady Byron as a vicarage.
Particular thanks to John Allen and Ray State for research on this entry