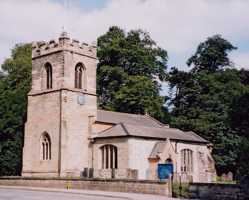 Oxton
St Peter and St Paul
Newark Archdeaconry
Newark and Southwell Deanery
Introduction
Although neither a church nor priest is mentioned in the Domesday Book of 1086, there is evidence of Norman stonework in the chancel and artefacts of possible Saxon origin within the church.
Built abutting the highway, the late 14th Century tower intrudes into the early 14th Century nave, reducing the original four bays to three and a half. There is a Norman chancel arch and doorway, but 19th Century restorations have left few original features. The south aisle is later and much wider than the north aisle. Most of the older box pews are 17th Century.
The nave roof was raised and a clerestory was added in the 1840-43 restoration. 1898-1900 works saw the north wall rebuilt and a new vestry and north porch added. In the 20th Century the tower was strengthened to allow six bells. The National Coal Board stabilised the structure following mining subsidence from Calverton coalmine. The 19th Century vestry was converted into a kitchen and disabled-access toilet facilities.
The east chancel window is a memorial to the dead of the Great War, 1914-18. There are several memorials and hatchments to members of the Sherbrooke family who were lords of the manor for some 400 years; also to Robert Scothorn, a Quaker, who sailed to America in 1684 to join William Penn, founder of Pennsylvania.
Today, Oxton shares its incumbent with the villages of Epperstone, Woodborough and Gonalston.
Particular thanks to Jean & Richard Ward for research on this entry