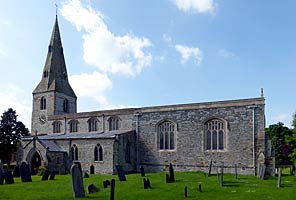 Willoughby-on-the-Wolds
St Mary and All Saints
Nottingham Archdeaconry
East Bingham Deanery
Introduction
The earliest reference to a church in 'Wilgebi' is around AD 1120. Although the original dedication of the church is obscure, it is usually referred to as St Mary. However, in York records it is given as All Hallows Church and in Bacon's Liber Regis it is referred to as St Mary's and All Saints. In the will of Richard Girton dated 1524 the church is dedicated to All Hallows. The fabric of the present building indicates a 13th Century foundation, which means there may have been an earlier church on the site.
Of the present building, the north and south arcades of the nave are the oldest and date from the beginning of the 13th century. They differ essentially in style, possibly suggesting the work being undertaken by two different benefactors employing their own masons, or at slightly different periods. During an Interdict in England from 1208-1213, much church building work was suspended, and it seems likely that when building work resumed the tower with its broach spire was built, housing a ring of three bells, followed by the large, plain chancel, which possibly reflected the wealth and generosity of Ralph Bugge, founder of the Willoughby family.
The chantry chapel built in the 14th century by the Willoughby family is dedicated to St Nicholas, houses a number of tombs, and retains a piscina and aumbry. There are eight monumental figures in the chapel, the four stone ones at the west end being the oldest. The other monuments of a judge, Knight Templar, and a Lord and Lady, are of carved alabaster and are the church's showpieces. Pevsner noted that the effigies were well carved and of a highly artistic quality.
A clerestory and windows were added in the 15th century.
After the dissolution of the monasteries the church was sold by the Crown and thereafter had several patrons. By the late 19th Century the building was in a most dilapidated state. Extensive repairs and replacement of the south porch were carried out in the early 20th Century, along with rebuilding of the chancel on the old foundations, and in the 21st century the tower and spire have been repaired.
Particular thanks to Monica Smith for research on this entry
and to Geoff Buxton, David Harper and Chris Brooke for the photographs.